EPMI's Cloud Maturity Model is a pillar of our customer's success. An Oracle Cloud EPM implementation is only the beginning of organizations realizing its value. The EPMIcast takes the audience through the Maturity Model and uncovers the capabilities organizations can take advantage of in the crawl, walk, run, and fly phases with Oracle Cloud EPM.
Balance Requirements, Resources, and Budget with the Cloud Maturity Model
After decades of successful Hyperion and Cloud EPM implementations, our team put together The EPM Cloud Maturity Model. With so many business processes across accounting and FP&A, executive teams need to balance high-priority requirements with resource and budget availability. By leveraging our Maturity Model, our customers can determine where they are today, where they would like to be tomorrow, and what is realistic to execute with stakeholder bandwidth.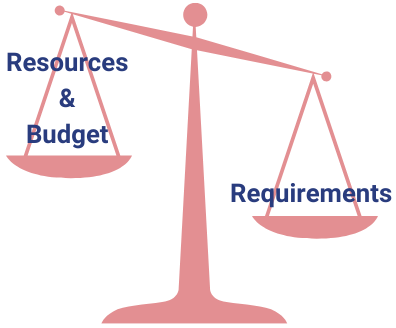 Aligning Financial Close
Within Financial Close, Cloud EPM supports a broad range of automation functionality across journals, data normalization, and more. In the crawl stage, we see a lot of accounting teams implement the Close Task Manager tool. Allowing teams to schedule and assign close tasks across distributed teams. Aligning remote accounting and reporting teams at month-end is easier than ever with Cloud EPM.
Beyond Task Management, mapping disparate ERPs, automating intercompany eliminations and journal entries shaves time off of Close. Enabling the accounting staff to focus on the relevance of the data, rather than spending time in excel. For reporting, P&L and Balance Sheet reports are typically easier to develop than the Cash Flow report. Cash Flow requires calculations to reconcile cash from operating, investing, and financing activities.
Automating Account Reconciliations
On Account Reconciliations, we commonly see General Ledger to Bank and Balance Sheet accounts as a crawl phase for balance verification. The Account Reconciliations tool comes standard with binder export functionality, which makes audit a breeze. For organizations with high-volume accounts, transaction matching is a great way to save time. As a rule of thumb, any account with over 150 transactions monthly is a candidate for automation. The Account Reconciliations business process support 1-to-1, 1-to-many, and many-to-many match types. Think credit card processors, ACH payments, checks, and even cash transactions.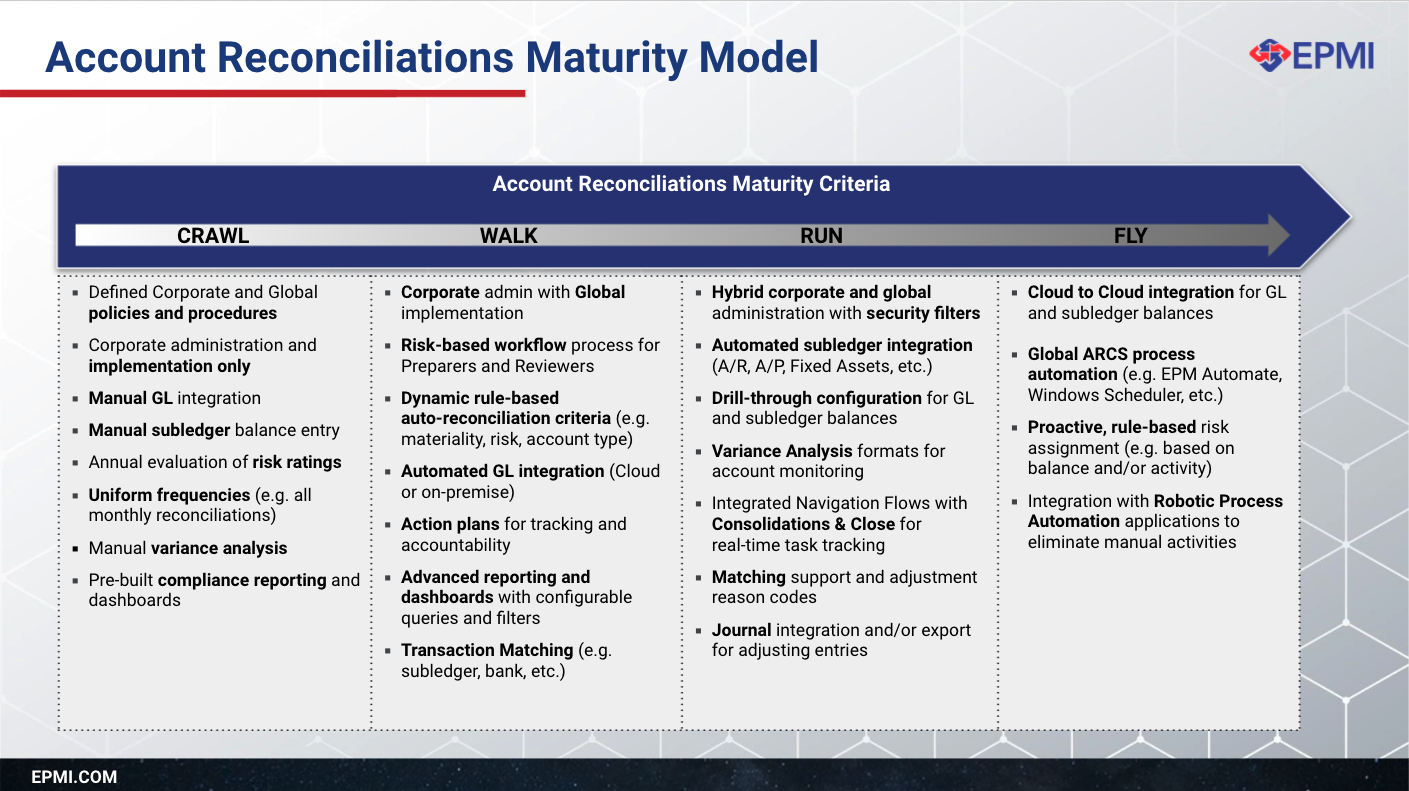 Scale your Planning and Budgeting using the Cloud Maturity Model
For Planning and Budgeting, a common crawl phase project will include Annual Operating Plan and P&L forecasting. As companies grow with the tool, EPMI recommends phasing in Balance Sheet planning, Workforce, Capital, and Scenario Modeling to gain an accurate picture of the next 1-5 years. Mature customers can take advantage of the FreeForm planning functionality, creating custom planning frameworks with data sources from CRM and Supply Chain Management systems. Use cases range from in-depth profitability analysis with the Profitability and Cost Management module to sales and operational planning.

Integrate with Ease
With Oracle Cloud EPM,
integrations
are rarely the sticking point. The application comes standard with ETL (Extract, Translate, Load) and automation utilities to pull data from any source system. The simplest integrations to configure leverage flat file exports from source systems and Cloud Data Management within EPM. For direct integrations, Cloud EPM supports API calls to most Cloud ERPs as well as pre-built adapters for all Oracle Cloud products.
There is a lot to consider when it comes to implementing Oracle Cloud EPM. At EPMI, we recommend phasing in your digital transformation into increments that make sense for your team. As the expression goes, you eat the elephant one bite at a time, so just make sure your team has the appetite and availability as you embark on your EPM journey.
Stream "Cloud Maturity Model" on your preferred platform: