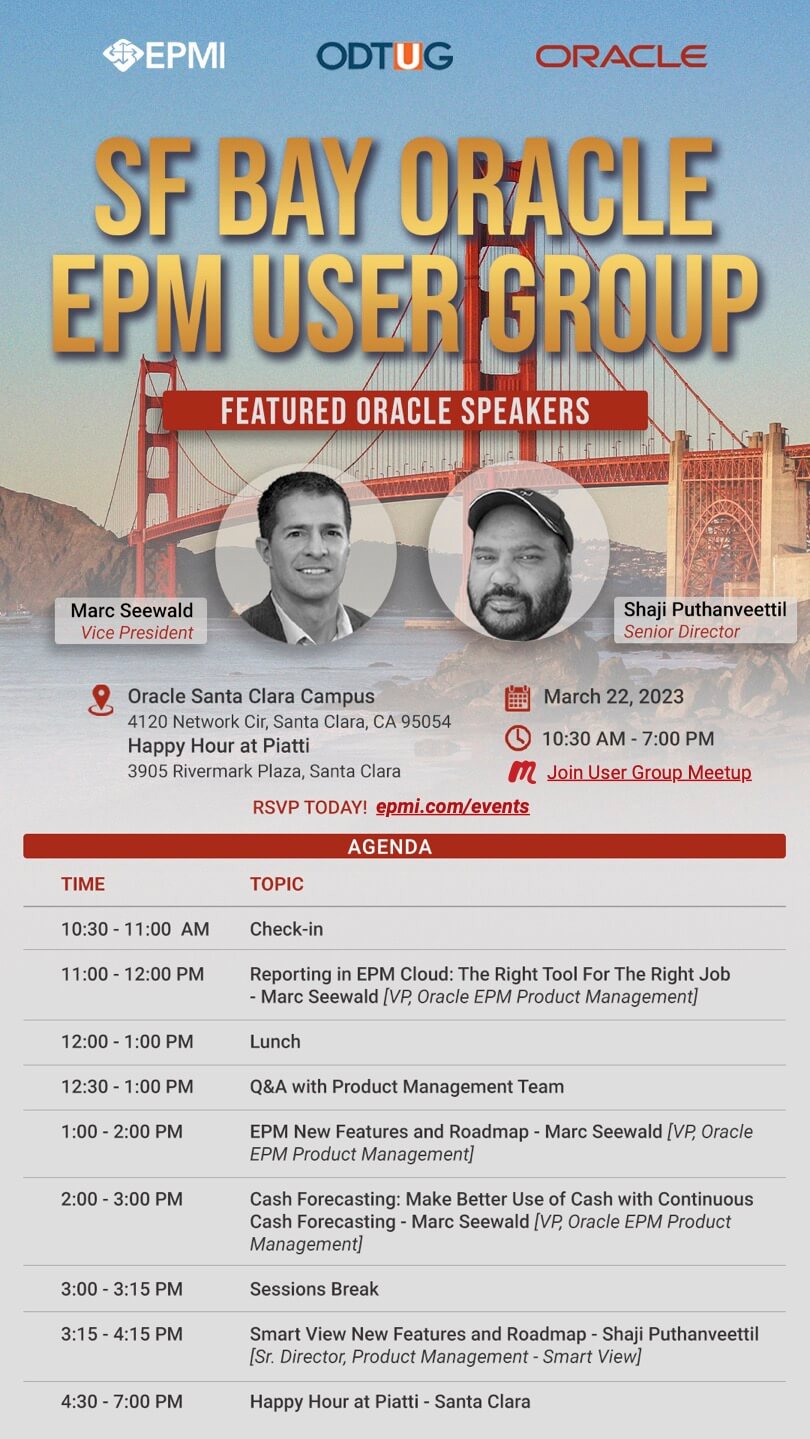 11:00 AM | Reporting in EPM Cloud: The Right Tool for the Right Job
Speaker: Marc Seewald | VP, Oracle EPM Product Management
Oracle Cloud EPM includes numerous options for reporting and analysis. This includes Dashboards, Narrative Reporting, Reports (formerly Management Reporting), Smart View, and IPM Insights. While all these tools enable you to have a comprehensive reporting strategy, the options can be overwhelming. In this session, we will discuss the different types of reporting requirements typically faced by Finance, and how Oracle helps you address these requirements. We'll answer questions like:
When to use EPM vs BI
Best methods for variance analysis
How can IPM Insights reduce time spent on data analysis
Compare dashboards vs Reports
This session is appropriate for experienced and novice EPM stakeholders
1:00 PM | EPM New Features and Roadmap
Speaker:
Marc Seewald |
VP, Oracle EPM Product Management
Stay up to date with the latest developments in Oracle Cloud Enterprise Performance Management and take a peek at what else is in store for the upcoming releases.
2:00 PM | Make Better Use of Cash with Continuous Cash Forecasting
Speaker: Marc Seewald | VP, Oracle EPM Product Management
Oracle will soon be releasing a new feature in Cloud EPM that uses machine learning to generate a Cash Forecast. In this session, we will introduce capabilities such as:
The automation of data collection and aggregation for data use in cash forecasting
A Machine Learning model that calculates a cash forecast based on AR/AP invoices
Features designed to optimize cash across your entire organization
We will also be providing a short demonstration and Q&A session.
Please feel free to invite your counterparts from Treasure or any stakeholders in cash forecasting.
3:00 PM | Smart View New Features and Roadmap
Speaker: Shaji Puthanveettil | Sr. Director Product Development, Smart View
Oracle Smart View is one of the most widely used interfaces by EPM users. Whether you are a Hyperion, Cloud EPM, Cloud ERP, OAC, or an Essbase user, chances are you have a large deployment of Smart View across your desktops (MacOS or Windows) and browser deployments. Join this session to hear about what is new with Smart View and where we are going in the future.
SF Bay Oracle EPM User Group
March 22 | Wednesday
Calling all Bay Area Finance leaders! Join EPMI and Oracle for a day of EPM education and networking! Sessions will be geared toward business leaders and technical users. Oracle will hold presentations covering topics on FP&A, Cash Forecasting, Smart View, and Product Roadmap. Lunch and Happy Hour included. RSVP today to save your seat!
Learn more about the SF Bay Area Oracle EPM User Group.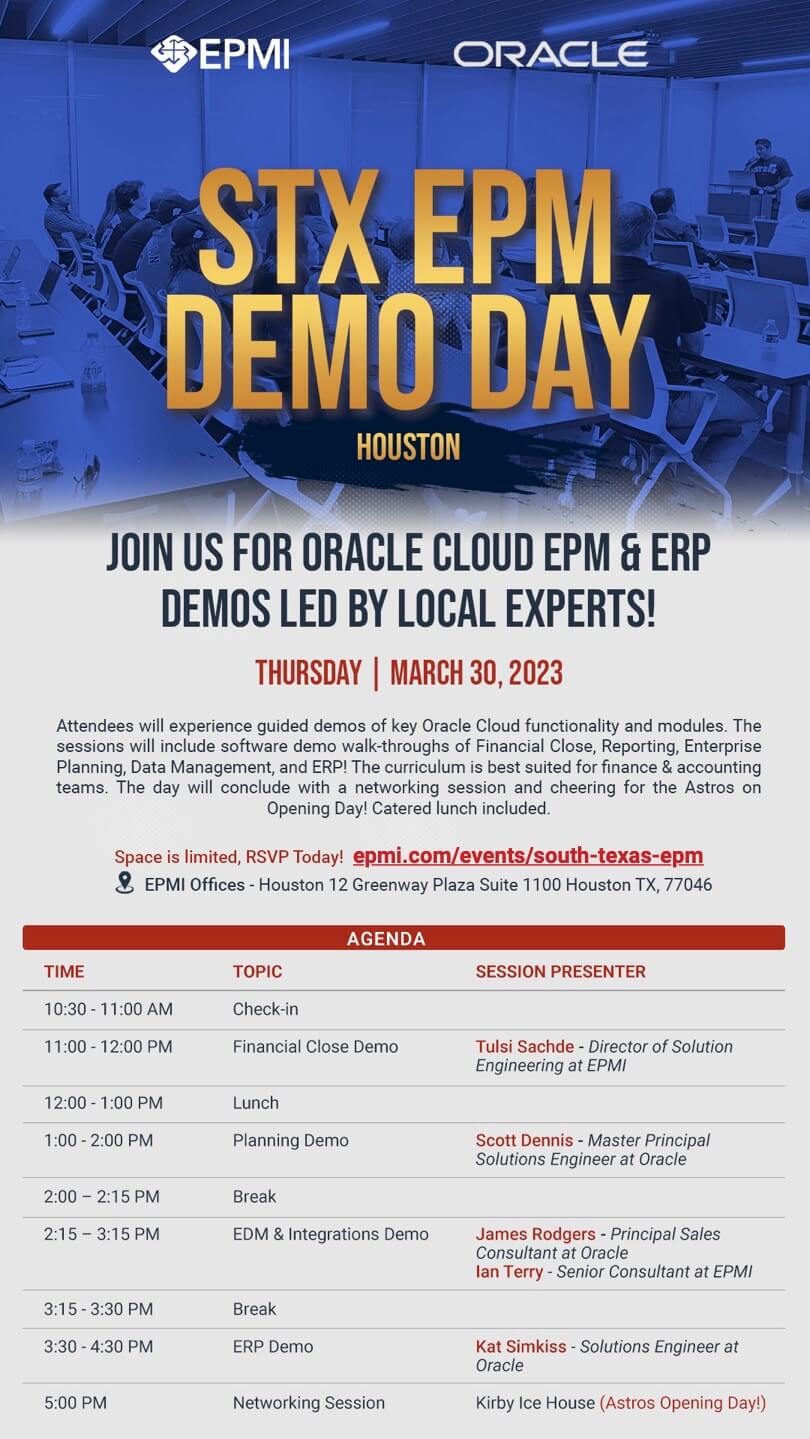 STX EPM Demo Day – Houston
March 30 | Thursday
Join us for Oracle Cloud EPM & ERP demos led by local experts!
Learn more about STX EPM and our previous event.