For Oracle Cloud EPM customers who purchased their license before 2019, they gained access to a single business process with their Oracle subscription. If you are an Oracle Cloud EPM user of EPBCS, ARCS, FCCS or any other similar acronyms, you fall into this category.
In June of 2019, Oracle pivoted to a platform approach, where each user license enables access to all business processes within Cloud EPM (see image below). Now, your Finance and Accounting team can maintain a centralized source of financial data, organized in a way that makes sense for both consolidated reporting and forecast metrics.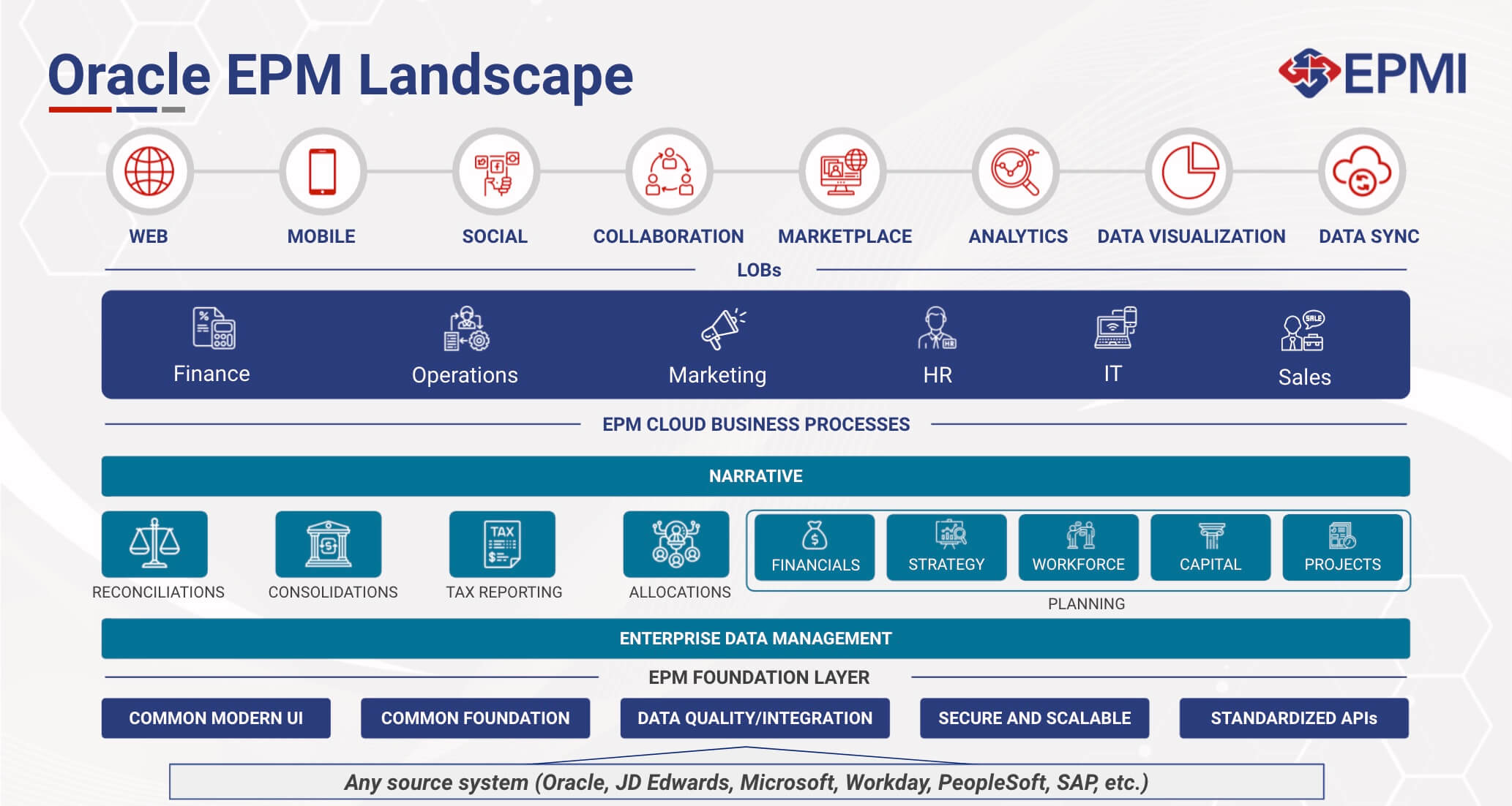 1) New Processes + Automation
If you've already implemented Cloud EPM for Planning, for example, you are likely experiencing the efficiency gains through distributed planning and process automation. These same concepts can be applied in Account Reconciliations, for example. Just as Planning reduced time spent on data preparation in Excel, the same reduction in manual effort is possible in other business processes. Automation means time savings, so you and your team can focus on high priority goals rather than staring at a spreadsheet.
2) Concurrent/Overlapping Users
For a lot of growing organizations, finance and accounting teams wear a lot of hats. The reporting team, for example, needs access to both consolidated financial reports and forecast reports for distribution. With Cloud EPM, each user license provides access to all of the business processes displayed in the image above. Beyond the economic benefit, Cloud EPM reduces the complexity of your vendor footprint and maintains a single UX across all of your teams. Much like insurance marketing pitches, with Cloud EPM, you save when you bundle across Close, Planning, Account Recs and Reporting.
3) Single Source of Truth
For publicly traded companies, building your 10K or 10Q reports requires data inputs from a variety of systems – Sales, Marketing and most importantly, financial data. With Cloud EPM, all financial information lives in the same platform and flows freely across Actuals and Planned data. When it comes time for the annual audit, Cloud EPM includes binder export functionality to ensure that you pass with flying colors. With a single URL, your team has visibility across the most relevant areas of your business.
To wrap up, organizations who have already experienced the benefit of modernizing a single business process can expand the use case. While it may be just FP&A today, the same ROI concepts can be applied in Account Reconciliations, Consolidation & Close, and Reporting.