Evaluating the EPM Landscape:
Oracle Cloud EPM vs OneStream
When evaluating and comparing Oracle EPM vs OneStream solutions, what should an organization consider?
Oracle Cloud EPM and OneStream both offer a platform that addresses needs across accounting and finance. Therefore, EPMIcast found it important to take a closer look at what differentiates the two solutions.
In this article, you will learn about the platforms, implementation efforts, upgrades, user communities, and more for Oracle EPM and OneStream.
Cloud Competitors
When looking at the EPM SaaS marketplace, there are two categories of products to consider: discrete single lines of business solutions vs broader platform solutions.
Vendors like Blackline, Anaplan, and Adaptive Insights deliver value in either Financial Close or FP&A.
Vendors including Oracle and OneStream offer a platform that addresses needs across accounting and finance.
EPMI chooses to work with Oracle Cloud EPM because of the breadth, depth, and ability Oracle Cloud provides. This allows EPMI to execute across both actuals and forecast-related business processes.
Oracle Cloud vs Competitor Platforms
As an organization scales, maintaining consistent data integrations is critical for getting insights from your transactional activity. Oracle Cloud EPM enables a central source of truth, starting with consolidated financials as a baseline to forecast various what-if scenarios.
Cloud EPM can integrate data from any source system. It normalizes those hierarchies into a standardized format to feed predictive analytics. In today's dynamic M&A landscape, automating data integration from subsidiary ERPs eliminates much of the manual effort required in close, reporting, and forecasting.
Outside of core finance and accounting functionality, Oracle Cloud also includes a data hierarchy management system, Enterprise Data Management (EDM). EDM allows businesses to maintain consistent data hierarchies across all applications (ERP, HCM, CRM, etc.) as the company evolves over time.
After M&A activity, reconciling a new merged product structure or workforce hierarchy can be a tedious task. EDM enables a self-service data hierarchy management to avoid duplicate, redundant, and incorrect data points.
From a user experience (UX) perspective, Oracle EPM is readily accessed across desktop (OS, MSFT, Linux) and mobile (iOS, android). This flexibility in access allows business leaders to access their financial data whether they're in the office or at the airport. OneStream limits customers to access via a desktop application.
UT Arlington used Oracle's Enterprise Planning tool to reduce the steps for budget input by 50%.

Oracle Cloud vs OneStream: Implementation Efforts
Implementation timelines have been drastically reduced as we shift to a Cloud-first approach. This is largely due to Oracle's investment in Cloud EPM preconfigured templates. These templates leverage decades of best practices dating back to the original Hyperion days. For Cloud EPM, most of the projects generally take 3-6 months to complete. OneStream projects typically take up to 9 months or longer. Oracle's pre-built out of box modules allow customers to add on additional functionality a la carte across time. OneStream, on the other hand, can require a technical redesign when modifying or implementing new business processes. Oracle emphasizes configuration over customization. This means that our consulting teams can focus on business user requirements and preferences. Rather than relying on a technical IT resource, Oracle's solutions enable users to build and maintain the application without VB .Net code and a Windows Server.
Implementation Timelines
Comparison
Oracle Cloud's Implementation Duration
OneStream's Implementation Duration
Oracle Cloud vs OneStream: Platform Upgrades
OneStream still operates under a similar implementation model to Hyperion on-premise.
OneStream is hosted on Microsoft Azure. IT is still largely involved in maintaining the application and upgrading the tool as an organization evolves across time. While they may bundle their offerings with Azure as "SaaS," customers still must submit requests to upgrade their applications in tandem with hosting services. On the other hand, Oracle offloads the technical complexity of installing hardware and servers, enabling the business team to focus on the task at hand. To provide a more scalable and flexible EPM platform, Oracle provides unlimited test and production environments for all business processes. OneStream comes standard with a single production environment, and charges significantly more for development environments.
On the other hand, Oracle offloads the complexity of installing hardware and servers. This enables the business to focus on the task at hand.
Automatic monthly updates continually invest in the pre-configured frameworks native to the tool. Therefore, your team can think less about the pipes and more about the faucet. This should allow more time and resources to solving the issues at hand.
"Our close process will be much more automated with the implementation of Oracle Cloud EPM. It will save us a lot of time each month."
Organizations Upgrading From Hyperion
Oracle's ownership of Essbase technology creates the simplest path forward for Hyperion customers to migrate to Cloud EPM. The best practice frameworks included in the application have been intentionally designed to migrate common customizations from Hyperion applications.
For legacy Hyperion users, the same multi-dimensionality functionality still exists today both in the Cloud tool and storied Smart View plugin.
At EPMI, we like to say Cloud EPM is "flexible in the right places." The tool gives finance and accounting teams the ability to report their consolidated financials and forecast data in alternate data hierarchies.
The Benefits of Upgrading to Oracle Cloud EPM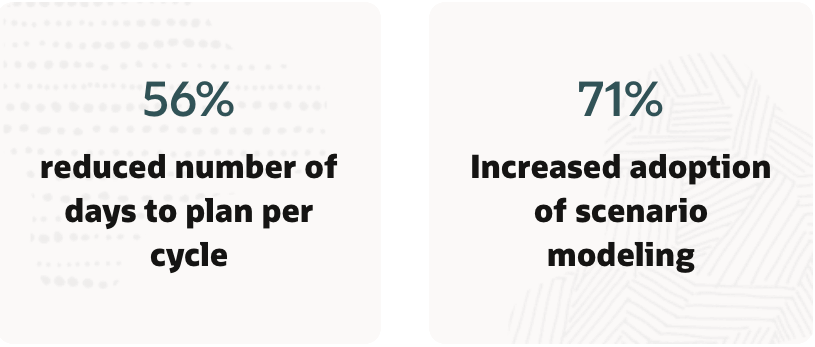 Customer Community & User Feedback
The Oracle user community is the most active group of finance and accounting professionals out of any SaaS vendor in the marketplace today.
With over 220,000 members on Cloud Customer Connect, the public brain trust available to all Oracle users dwarfs the rest of the players in the space.
The product management team at Oracle regularly reviews user feedback to drive product direction. Additionally, all of Oracle's technical documentation is public-facing, so, with Oracle Cloud EPM, "you can just google it."
Conclusion: The Premier EPM Solution
For customers deciding between Oracle Cloud EPM and OneStream, there are key considerations:
Oracle Cloud EPM's time to value is much shorter due to its streamlined implementation timeline. Additionally, Oracle's platform upgrades and feature releases are iterative, frequent, and user-focused giving organizations more flexibility with the tool.
For current Hyperion customers, Oracle presents the easiest path forward to upgrading to the Cloud. From Oracle's data hierarchy management system to its user community, Oracle Cloud EPM is the premier solution in the EPM marketplace. Across all industries, Oracle's impact on the office of the CFO dominates the competition in their niche EPM offerings.
Click here to schedule a discovery call to learn more about implementing Oracle Cloud EPM.