Smart Lists in Oracle EPM Planning provide a convenient way for users to select items from drop-down menus instead of manually entering data. They offer several advantages, such as reducing the need for additional dimensions and dimension members, facilitating data integration between modules, and enabling the capture of custom informational data. These features make Smart Lists a popular choice among Oracle Cloud Planning users, in this post, learn how organizations can leverage this time-saving tool.
What are Smart Lists?
In Oracle EPM Planning, Smart Lists are custom drop-down lists users access from Form Cells and Smart View Cells. When clicking in cells whose members are associated with a Smart List (as a member property), users select items from drop-down lists instead of entering data. Users can't type in cells that contain Smart Lists. The items in a Smart List are used for informational purposes to flag or identify properties of a member. Smart List entries also cannot be aggregated.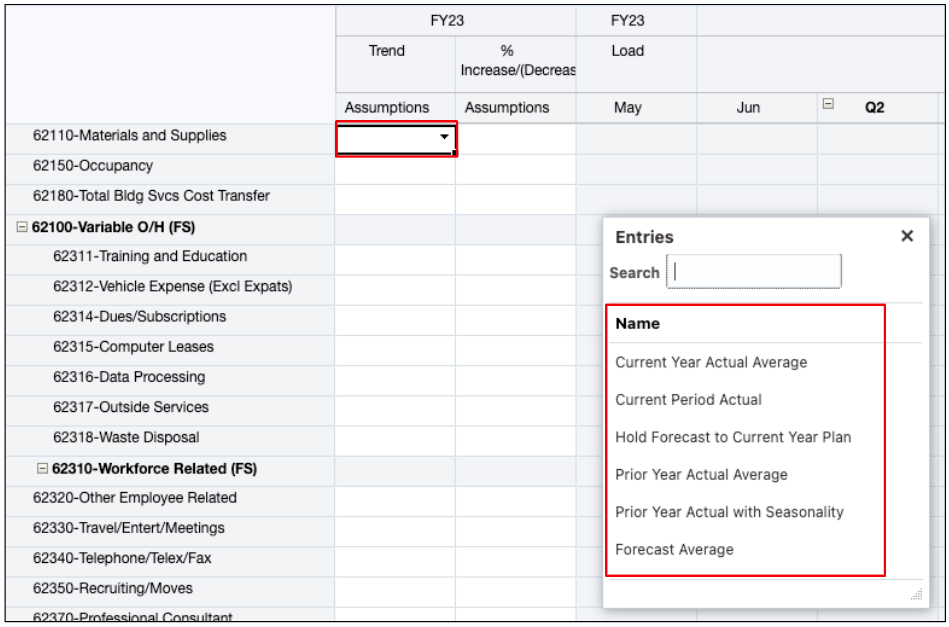 Why use Smart Lists?
Smart Lists are used extensively in Out-of-the-Box Planning modules due to the amount of informational data that is used to flag dimension members. For example, Workforce Planning uses Smart Lists to Flag the Status of new hires as Active, Approved, Onhold, etc.
Another example of an Out-of-the-Box Smart List is one that is used in Financials. When doing trend-based planning, there is a Smart List for Trends. When a user is applying a trend to calculate planned or forecasted data they can use the Trend Smart List with options such as Prior Year Forecast Average, Year over Year Increase/Decrease, Prior Month Run Rate, and many others.
How Smart Lists help our clients?
1. The Smart Lists included in Out-of-the-Box Planning modules help users in many ways. The biggest benefit is the reduced need for additional dimensions and dimension members. For the Workforce Planning example above, instead of having a different dimension for Hiring Status a Smart List was used. In addition, instead of using different accounts for Hiring Status, such as "New", "Approved", "Closed", etc. one Out-of-the-Box account was created called OWP_Hiring Status with the Data Type set as "SmartList". The Smart List is composed of 6 different entries to flag the status of a New Hire.

2. Another benefit of Smart Lists in Out-of-the-Box Planning Modules, is they also facilitate in the push of data from one module to another by mapping Smart List members to dimension members in the Target Cube. This allows for easy integration and data flow between modules without using complex Business Rules or Data Management.
3. Not only are Smart Lists heavily utilized and helpful in Out-of-the-Box Planning Modules, but they can also be an easy and effective way to capture other informational data using custom Smart Lists.
Defining Smart List
If you want to capture the SEC category of an Entity, create a Smart List called SEC Category. For this example, the Smart List is called "sl_SEC_Category". There are two different ways of adding entries to a Smart List.
1. Either manually add the SEC categories as members of the Smart List
2. Or associate your Smart List with dimension members and populate the Smart List entries based on this selection.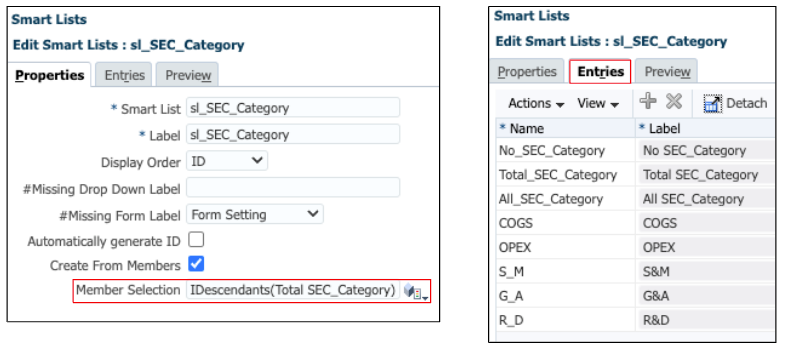 Next, navigate to the Dimension Editor and select dimension members for which this Smart List is displayed, or create your own new member. For the SEC Category example, a new account was created called "SEC_Category_Assignment" with the Data Type set to "SmartList". Next, for the drop-down of Smart Lists, the specific Smart List that was created called "sl_SEC_Category" was chosen.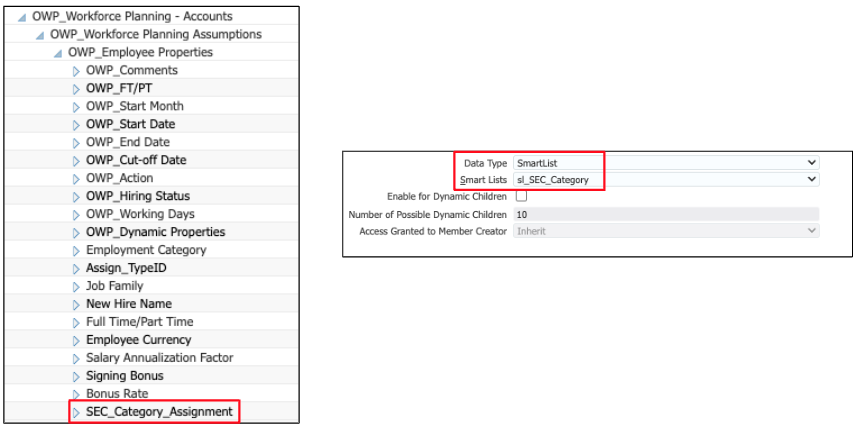 Once the custom Smart List is created and associated with a member, users can view the Smart List entries associated with the new member in a Form or Smart View drop-down list.
Streamline Planning Processes with Smart Lists
Smart Lists are popular with our customers because they can be utilized throughout the entire data flow life cycle. When integrating data from a source system, specific fields can be imported as Smart List entries. Smart Lists can also be used to flag or update properties of members within an application while reducing the number of dimensions and metadata that are required. Moreover, Smart Lists can be utilized for Out-of-the-Box Data Maps. If Data Maps are not being used, Smart Lists can easily be used in Business Rules to flag data and push data to other cubes. Smart Lists are very beneficial and will make your Oracle Cloud Planning processes efficient!
As always, please connect with EPMI on how to best leverage Oracle Cloud EPM.