The Oracle universe has been providing ample content to help Hyperion customers decide whether to upgrade their 11.1.2.x instances, or to shift their Hyperion environment to the EPM Cloud. This article will attempt to cut through the noise and lay out EPMI's idea of what your organization should consider as they evaluate next steps.
Hyperion 11.2
Overview
From an On-Premise perspective, Oracle will provide premier support for 11.1.2.x only until December 2021, afterward, non-upgraded Hyperion environments will be shifted to sustaining support (Here's the apps support doc) – essentially, if you aren't upgrading or shifting to cloud, your support will be downgraded.
Hyperion has been shifted to join Oracle's Applications Unlimited group, which will integrate customer feedback for smaller and more nimble iterative enhancement releases – Premier support has been scheduled until 2030 (at least) and can run on Oracle Cloud Infrastructure (OCI) if you'd still like to reduce IT hardware spend on-premise.
The 11.2 upgrade was released on 12/19 and is a technical upgrade – meaning any Hyperion upgrade would be an out of place migration, requiring new servers as the applications cannot overlay during the transition.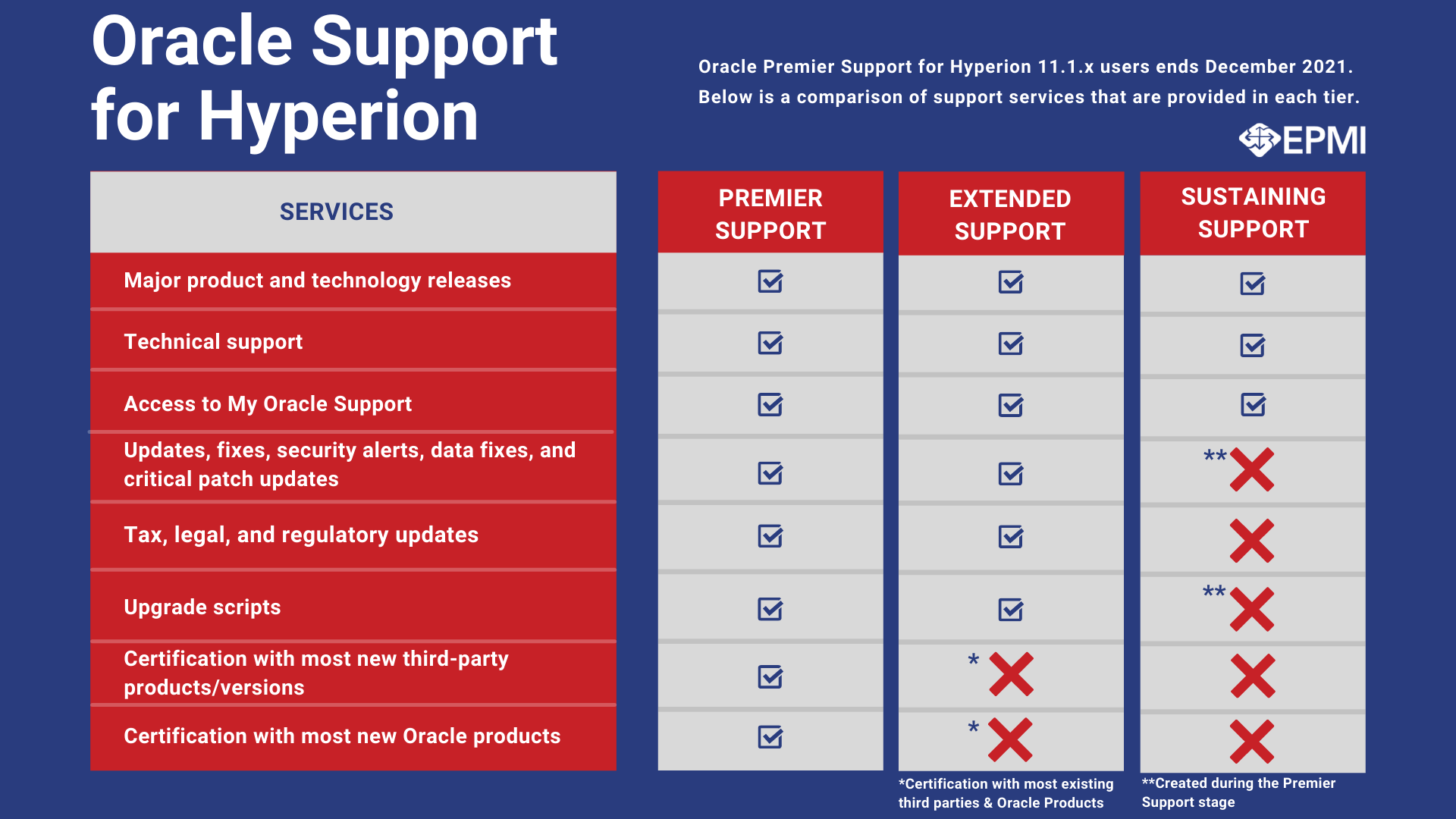 Functionality:
Unless you've had your head buried in the sand for the past 5 years, you'll know that Oracle R&D has allocated their funds almost entirely towards innovating within EPM Cloud. This trend remains true for the Hyperion 11.2 upgrade – in fact – there are a number of features that will be discontinued or stagnated in 11.2 – here is the list:
EPM Architect – must convert to classic mode or leverage limited DRM license for EPM only. (does not apply to DRM customers)
Financial Management Analytics
Essbase Analytics Link (EAL) – no new version in 11.2 – only 11.1.2
WFP, Capex, Projects, Strategic Finance – existing module applications will upgrade as-is, but these modules aren't offered for new Hyperion customers
EPM Mobile
Crystal Ball
Simplified User interface
Disclosure Management
Interactive Reporting
Production Reporting
Web Analysis
Quantitative Management and Reporting for Solvency
Please refer to Oracle Support for specific statements of direction for each of the above.
Cost
This is a bit of a tricky topic, as each company will have varying levels of support, maintenance, and upgrade costs depending on the complexity of their Hyperion instance. As a good rule of thumb, On-Premise upgrades require both hardware and software components and typically are more resource and cost-intensive than upgrading to EPM Cloud.
EPM Cloud
Overview
The teams over at Oracle Product Development have been hard at work integrating Hyperion's legacy business processes into a cohesive and integrated cloud platform that delivers value for the office of the CFO. If you take a look at any Gartner, Forrester or IDC market analyses, you'll see Oracle EPM as the clear front runner for performance management solutions. Now, keep in mind all of this information is coming from an Oracle webinar, but the big O boasts over 4600 customers with 7600 business processes enabled, spread across 80 countries and 20 industries.
From a delivery perspective, Oracle has streamlined the upgrade process and transformed how organizations interact with software. Hyperion upgrades were defined by technical requirement lags, 5-year adoption cycles and reimplementations, EPM Cloud moves a bit quicker. Now, Oracle releases updates monthly that install much like an iPhone would – completely hands-off and overnight. Rapid innovation in the cloud space means that functionality will evolve as quickly as your business does – all without having to get your hands dirty on hardware.
Functionality
When looking at EPM Cloud as a successor to Hyperion, you have to understand that this isn't a lift and shift of legacy functionality, but rather a complete platform redesign that changes the way business processes are provisioned and delivered to the customer. One user license fee gives customers access to EPM in totality, rather than licensing discrete cloud services under separate SKUs. The business processes native to EPM Enterprise Cloud* include:
Planning (WFP, Capex, Projects, Strategic Modeling inclusive)
Intelligent Connected Planning strategy decentralizes planning/budgeting responsibilities across LOBs and Operational Units
Sample of new functionality includes "Period 13" forecasting based on customer feedback
Consolidation and Close (Task Manager inclusive)
Seamless close process orchestration leveraging Intelligent Process Automation for a more automated close
Basically – taking the mundane out of monthly reporting preparation with machine learning and automated task management
Account Reconciliations (Transaction Matching inclusive)
Eliminate manual balance verification efforts and integrate transactional records across payment systems and bank accounts
1 to 1 and 1 to many transaction matching capabilities sync daily, resulting in a more streamlined monthly close
Profitability & Cost Management
Automation for complex allocation models and integrated reporting
Narrative Reporting
Edgarization – AI pulls qualitative and quantitative data into standardized XBRL/iXBR/ESMA etc. reports for SEC filings
Collaborative workflows remove headaches from authoring, versioning and audit prep
We are really excited about the use cases in regulatory and internal reporting
Tax Reporting
Fully integrated tax provisioning, transfer pricing allocations and tax forecasting
Common data model ensures data integrity as part of a continuous financial close
Enterprise Data Management (EDM)
*Ask me about the difference between Enterprise and Standard Bundles*
The addition of EDM the EPM platform is a huge win for customers who are looking to get their toes wet with a cohesive solution for managing data governance across disconnected applications.
Want to make sure your on-premise EBS CoA is aligned to your acquisition's cloud Sage ERP CoA? No problem. Want to introduce a new product/SKU and reflect those metadata changes across all of your systems? Easy. Gone are the days of email requests flooding your IT manager's inbox.
Right off the bat, Oracle customers are seeing value through cloud EPM – a recent survey showed:
20% reduction in time to close the books
71% decrease in budgeting time
52% improved collaboration and communication
44% reduction in time to product management reports
Cost
Again, while I can't make any promises here that "cloud will always be cheaper," we see the reduction in spend on-premise maintenance and support oftentimes makes a cloud transition more palatable. There are an infinite number of paths you could take, ranging from a lift and shift all the way to full business process redesign, all of which can contribute to a more complex migration path. As far as cloud tools come, EPM has been positively received by Oracle customers as the first step to the cloud, as replacing planning or consolidations tools disrupt critical systems less than say, an enterprise ERP implementation.
Key Points:
To summarize, Oracle has been heavily investing in EPM Cloud as a logical next step for Hyperion customers around the world – each Hyperion business process has a "cousin" in EPM Cloud (ex. Financial Close + Consolidation is the evolution of HFM) and the lift and shift approach makes these projects relatively straightforward. EPM Cloud provides new functionality listed above and integrates your financial processes through a common data model to save time and money. Our own EPMI customers have seen budget time slashed by 40% and budget meetings reduced to just 30 minutes.
Thanks for reading along! Feel free to get in touch with any questions – happy to provide more info.
– Fletcher Cox