Variance Analysis is a key analytical tool in the period-end close. Oracle EPM Account Reconciliation provides an out-of-the-box solution for variance analysis, but a successful implementation depends on understanding individual customer requirements.
Reconciliations using the out-of-the-box variance analysis format behave similarly to reconciliations using the account analysis and balance comparison formats. They may include instructions, attributes, questions, and rules. In addition, they have their own workflow and profile mappings in Data Integration. It is precisely these features that may or may not make using the out-of-the-box solution right for a company.

Variance Analysis Profiles
Creating a new set of variance analysis profiles increases system administration overhead. Administrators must manage new formats and profiles in addition to the ones used for reconciliation compliance. Not to be forgotten, a new data integration must be configured where the profile mappings for the variance analysis profiles will sit. The trade-off for the increased overhead is that variance analysis profiles can be set up at a different level than the reconciliation compliance profiles. That is, if the reconciliation compliance profiles are set up at the account-entity level, because the variance analysis profile mappings are configured in their own location, they can be set up at the financial statement line item level, for instance.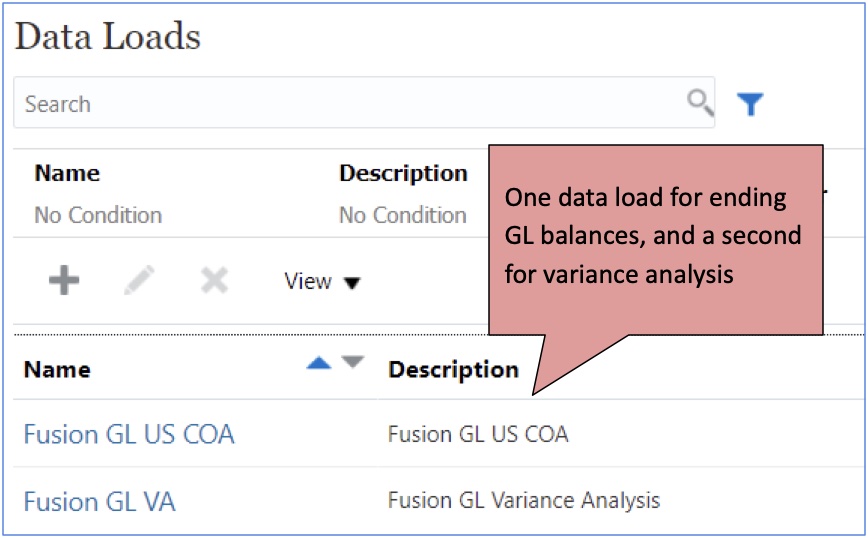 Reconciliation and Variance Analysis Workflows
Separate workflows also raise questions about what is best for a company's variance analysis business process. New profiles with their own workflow are beneficial to companies where the reconciliation preparers are separate from the variance analysis preparers. In this case, reconciliation preparers and variance analysis preparers can perform their tasks independently of each other. However, if reconciliation preparers are responsible for providing variance analysis on their accounts, system administrators must consider user adoption. By creating separate workflows, preparers must now access two separate reconciliations for the same account – one for reconciliation compliance and another for variance analysis. Some users might bristle at the extra clicks it requires to complete both reconciliations.

Configuring Oracle Account Reconciliation
Fortunately, because ARCS is highly configurable, variance analysis can also be completed using standard reconciliation compliance formats – account analysis and balance comparison. To do so, a system administrator must assign an attribute to reconciliations (at the format, profile, or reconciliation level) where preparers can provide their explanations for the period variance. Oracle provides an out-of-the-box attribute, Variance Reason Code, that is configured as a list, but system administrators can configure their own attribute if they desire.
To enhance their configuration, system administrators can require that only reconciliations with a variance above a certain materiality threshold – either a dollar value, percent, or both – need a variance explanation. Another attribute needs to be added, one that calculates the period variance amount, and then this attribute can be used in a filter to identify which reconciliations require an explanation. Lastly, a Prevent Reconciliation Submission rule can be added using the filter to ensure that preparers comply with the company.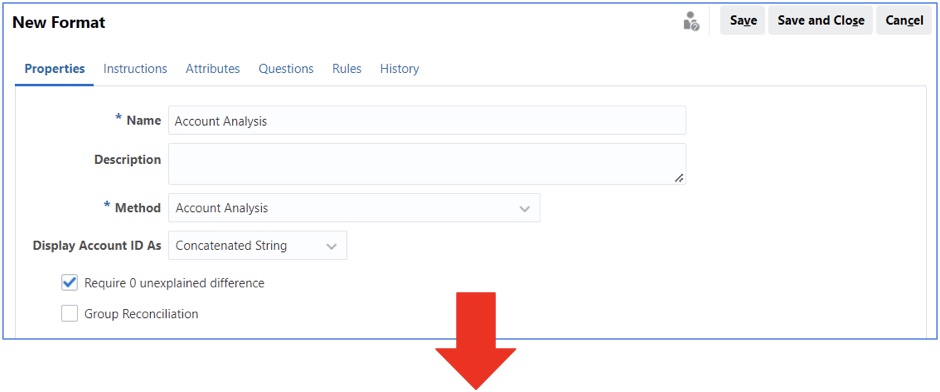 Variance Compliance
By choosing to enable variance compliance using existing reconciliation compliance profiles, administrators reduce overhead for themselves and increase user adoption. However, the major downside to this method is that variance analysis must happen at the same level as the reconciliation compliance; there are no alternative groupings.
The Right Solution for Business Needs
Companies using Oracle EPM Account Reconciliation should consider implementing some form of variance analysis alongside their reconciliations. It's a key internal control, and auditors are sure to ask about a company's process. However, with ARCS, there is no one-size-fits-all solution. The right solution for a company comes down to what meets that company's needs best.