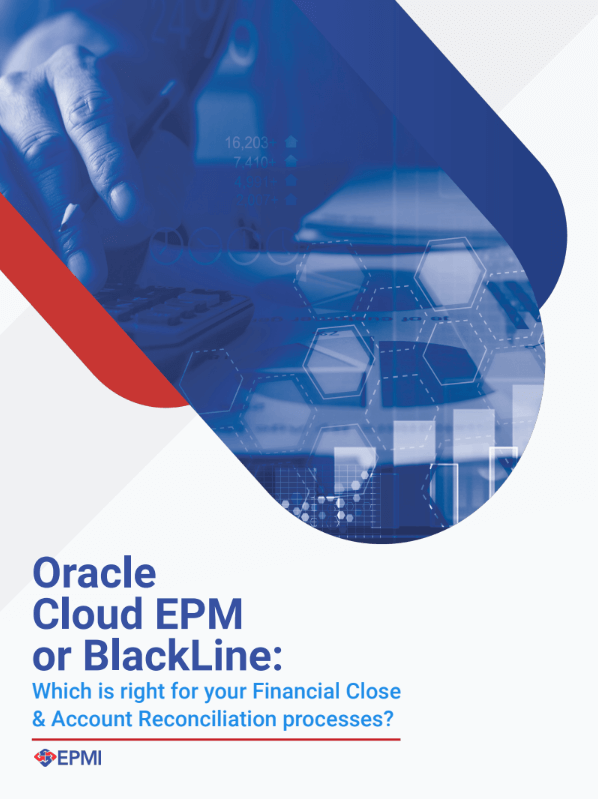 There's a reason why Apple rewrote the script on personal computers and IBM didn't; why Tesla revolutionized the electric car industry and GM didn't; why Facebook monopolized the media platform, and NBC isn't.
Innovation often originates outside of the existing ecosystem, and account reconciliations is no different. Since 2011, Oracle Account Reconciliation Manager (ARM) and Account Reconciliation Cloud Service (ARCS as of 2016) have been beating the traditional industry incumbents out of the water.
Not only are companies switching from an offline Excel process to an integrated and automated solution, they are switching to Oracle from various other account reconciliation tools, including SaaS applications like BlackLine and Trintech.
We have recently converted several customers from either Excel or BlackLine to Oracle ARM/ARCS, so this post will focus on the key differences between these two technologies. 
Please note that I do not work for a BlackLine implementation firm, so the information presented here is based on BlackLine client interviews and knowledge from account reconciliation industry experts.
Life before the switch:
Prior to the implementation, customers (such as the client case study highlighted below) were often struggling with the burden of increasing subscription costs and delays due to the disjointed data flow between Oracle EBS and BlackLine. As legal entities were evolving in HFM, account certification governance and accountability of those entities was cumbersome. Data was inaccurate, reviewers/approvers were misaligned, and technology was a distraction, rather than an enabler.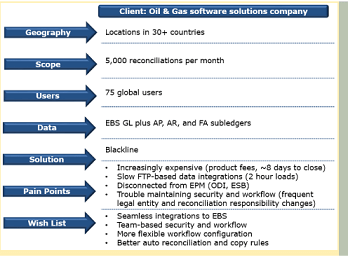 How to switch?
A vendor's technology is the #1 key factor that most influenced a customer's selection of account reconciliation software in a 2013 iPolling survey. This is likely even more true today due to an even greater reliance on technology for business.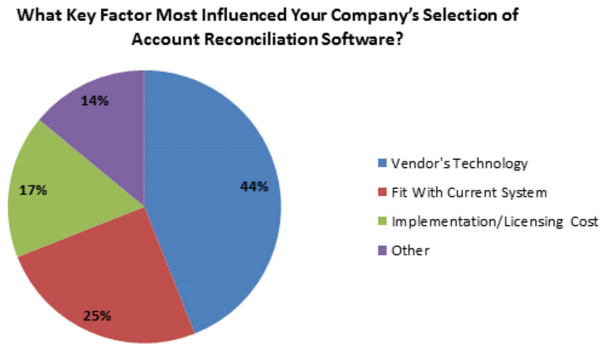 Modules
Rules engine
Integration
Ease of use
Workflow
Reporting
Task management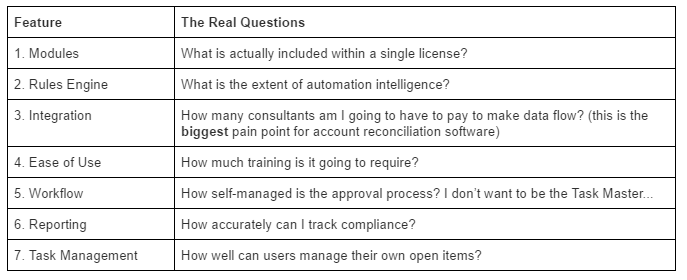 #1 Modules:
As of December 2016, ARCS includes transaction matching as part of a single module, whereas BlackLine separates this feature into a different product offering. In ARCS, you can treat the transaction matching workflow as part of the standard setup process prior to opening a period for users to begin certifying accounts. Administrators or Power Users may validate and confirm suggested matches, in the same way that they may check auto-reconciled accounts without leaving one tool.

#2 Rules Engine:
Surprisingly, my previous implementation of ARCS revealed that over 60% of the accounts could be auto reconciled, based on either thresholds of immaterial balances and/or activity…wow! Every company's reconciliation policy will differ, however in this case, more time could truly be allocated towards high risk accounts and investigating discrepancies, rather than ticking and tying spreadsheets.
While both tools offer this capability, the abundance of configurable options seem to be endless with Oracle. The below screenshot shows a simple example of how to automatically assign a low risk rating to an account before the profile is copied to a period based on source system and activity dollar amounts: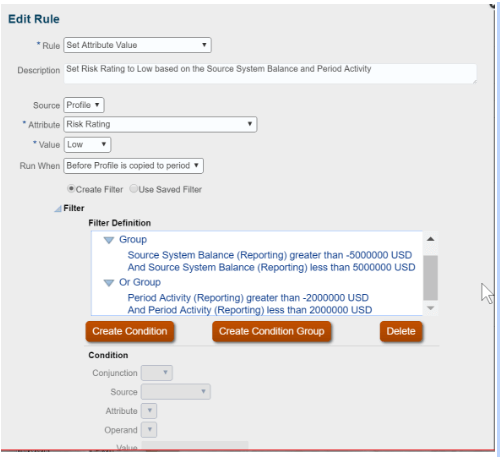 Just to give you a glimpse, the list of customizable attributes is quite extensive as well: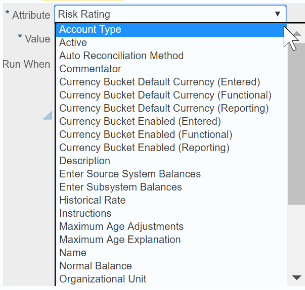 You can also configure auto submission, auto approval, and prevent reconciliation submission based on account balances or period activity as shown below:

The Scoop:
BlackLine allows you to set risk ratings for account profiles when setting up the system and can be modified on a monthly basis. The difference is being able to dynamically set the risk ratings based on the data in the source system and subledger data, rather than what the administrator thinks it to should be when the system is set up. This is a progressive approach to compliance that is enabled by intelligent rule configuration in the system.
As far as auto-reconciliation capabilities, both tools are comparable, with slightly more flexibility available in Oracle to set specific auto-rec rules based on balances and/or activity as shown above.

#3 Integration
The reconciliation process inherently requires that data from the source and subsystem is available for comparison to ensure balances tie to your subledger or are certified based on explained balance criteria.
The EPM data management capabilities allow for automatic and scheduled data loads, batch processes, and automated updates through flat files using the EPM Automate utility. If on-premise FDMEE is available (version 11.1.2.4.000), drill-through to source and sub-system detail can be made available, such as being able to integrate with Oracle EBS and SAP through pre-built adapters.
This flexibility is the key difference between these two technologies, as BlackLine requires a specific data set format and file-based data loads, with no visibility into the source or sub-system detail. However, you can still connect to multiple ERP systems, banks, and credit processors.
We felt that the flexibility with ARCS took the prize since it allows for a phased and agile approach to implementing a reconciliation solution where new entities can be easily integrated as users get comfortable with the system and the reconciliation process stabilizes.
The Scoop:

#4 Ease of Use
We found that the 20 (versus 8 in BlackLine) pre-built templates for different reconciliation formats available in Oracle ARCS, ranging from Accounts Payable, Receivable to Intercompany, Cash, etc. were very helpful as a starting point in the design/build process. We were able to work with the Administrators and Power Users to customize account analysis and balance comparison formats on the spot.
During the course of the implementation, as well as post go-live, the training tools in both systems are extensive. The only difference being that BlackLine allows you to track training progress by user.
So, what's the score? We still rated ARCS higher because of the user interface and the availability of pre-built templates that allows the admin team to easily develop additional reconciliation formats in the future.

#5 Workflow
In terms of workflow, there's a tie. As a compliance tool, standardized controls, roles, and responsibilities are at the core of a reconciliation process. Both tools allow for sufficient collaboration, tracking, and reviewer/approver duration limits to fit a company's reconciliation compliance policy. While team-based security is available in both tools, clients have mentioned that it's not as easily accessible in BlackLine, when compared to ARCS.
#6 Reporting
This is a tricky one. First, from an implementation standpoint, it's often easy to overlook the types of reporting that may be required, until Administrators and Power Users are able to visualize the reconciliations in the system. The current process is usually very manual in Excel, that reporting on compliance is a far stretch of the imagination. If BlackLine is already being used, then it's not much of a paradigm shift.
Here's the difference: ARCS includes 15 pre-built reports that often meet the customer's needs in order to track reconciliation compliance by organization unit, reviewer/approver, status, aging, etc. Three standard dashboards are also available as shown below: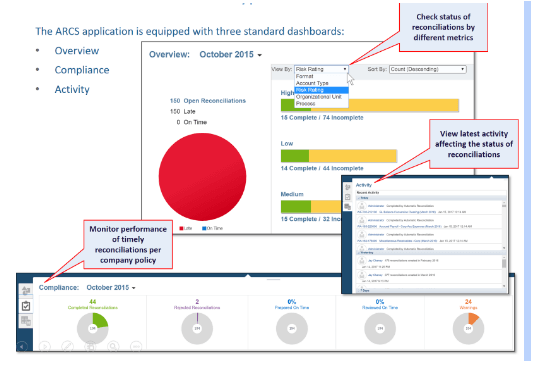 Additional custom reports may be configured, however we have noticed that the reconciliation and transaction lists as shown below, provide the ability to add/remove columns as each user chooses. Before you go down the route of creating a new report, explore the flexibility in these views as a potential option.

The list of attributes to choose as columns for reconciliation and/or balance detail goes on…