Since its introduction in February 2014, Oracle Cloud Enterprise Performance Management (EPM) has grown by leaps and bounds and now offers a complete set of proven Cloud EPM business processes.
Thousands of Oracle Hyperion customers have adopted Oracle Cloud EPM and have experienced substantial benefits. This shift to the cloud will continue as businesses operate with more agility and flexibility worldwide.
Why Migrate to the Cloud?
Cloud-based EPM solutions offer corporate finance, accounting, and operational users significant opportunities in key business processes such as planning, financial consolidation and close, and management reporting. We will discuss some of the primary drivers for shifting finance functions to the cloud.
1. Reduce Total Cost of Ownership
The total cost of ownership for EPM processes is materially lower in the cloud because common overhead functions are facilitated by Oracle rather than the customer.
Large upfront costs such as new hardware are eliminated with the cloud. The ongoing cost of hardware in current on-premises systems can be considerable. The hardware must be periodically upgraded manually as new releases come out with updated functionality. Additionally, the cost of new hardware often presents an obstacle when exploring new implementation phases.
Beyond hardware, associated IT service costs also tend to be much lower with cloud. This includes support of security hardware, data backups, periodic maintenance, application monitoring, software upgrades, and disaster recovery. In the cloud, these services are performed by the cloud service provider (Oracle) and are included in the subscription price.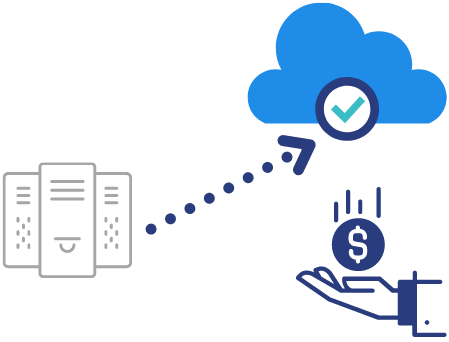 2. Innovation and Enhancements
Another benefit of the cloud is the expediency of new features that can improve EPM efficiency and accuracy for users. Traditional on-premises software can go two to four years between upgrades.
The rapid development of innovations is enabled by the cloud since all the customers are on a common platform. This shared usage allows for enhancements that were not possible with on-premises software needing to support different deployment platforms and custom customer landscapes.
3. Leverage Best Practices
For some company-specific EPM processes, the fastest route to the cloud may be to lift and shift current EPM processes to the cloud. However, for many of the most common EPM business processes (such as expense planning, workforce planning, financial consolidation, etc.) adoption of best practices built into the cloud should be seriously considered as a key benefit.
These best-practice frameworks in Oracle Cloud EPM are fully configurable and designed to meet the unique needs of each customer. Furthermore, the frameworks are completely connected. This functionality allows for greater flexibility when addressing specific business requirements.
The best-practice frameworks are designed around a maturity model that accounts for the fact that many companies prefer to adopt best practices over time. Learn more about EPMI's maturity model and project phasing methodology in our podcast.
Bridge from Oracle Hyperion to Oracle Cloud EPM
Agility in financial, accounting, and operational EPM processes is perhaps the most overlooked benefit of Oracle Cloud EPM. Organizations need to be able to react quickly to market opportunities and threats. Oracle Cloud EPM answers this need by enabling reimagined business processes. One of the biggest contributors to this increased agility is the fact that Oracle Cloud EPM is delivered through one integrated platform. The current on-premises Hyperion suite has been successful for thousands of companies around the world, but it rests upon two different pieces of technology: HFM and Planning.
Oracle Cloud EPM allows for cross-functional navigation flows that allow users to seamlessly use the capabilities of both HFM and Planning across EPM application domains in a single user experience.
At the same time, the EPM product development team recognizes that a switch to the cloud cannot be accomplished overnight. Thus, many features have been introduced to ensure that Oracle Cloud EPM can interoperate with existing on-premises software.
Conclusion
As corporate finance continues to strive to better serve its business stakeholders, Oracle Cloud EPM continues to prove to be the ideal tool for this goal. The investment in this process and technology will allow for more efficient delivery of these services. A majority of EPM users are transitioning to cloud-based financial systems, and thousands of customers have already achieved success in Cloud EPM.
Click here to schedule a call to learn more about how we can help you implement Oracle Cloud EPM.